13 videos, total 1 hour 20 minutes, 1 lesson covering 12 topics.

How To Get Control Of Your Mind.
Overview:

Why does this matter?

We all have a brain, yet few people are taught even the basics about how it forms our thoughts and experiences. Without this knowledge, people run on autopilot and cannot take control of how they have become used to responding.

This course will equip you with the knowledge, skills and behavioural competencies required to gain awareness and control of your thinking.
Objective:

How can you actually use this?

To make you aware of your (and others) mental processes.
Understand the relationship between your thinking and your experience.
Provide you with strategies for modifying mental processes.
Get control of internal and external communication.
Learn how and when to use your mental time machine.
Trainer:

Who is Steve Boyley, JAFS.?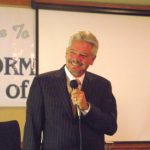 Steve Boyley is an expert on personal development. He is an internationally acclaimed executive trainer and coach for advanced communication skills, leadership, management, sales, persuasion and personal change.

Customers from more than 30 countries love Steve's training.

See 94 reviews of Steve Boyley's training.
Designed for:

Will my family, friends and coworkers also like this?

This course is appropriate for everyone and can be used for personal and business situations.
This course has NO SWEARING and is suitable for all audiences.
This course will be of special interest to people with a desire to understand their mind and how to use it for practical achievement and self-mastery.
Training Methodology:

What will I have to do?

It's online! Learn and review when

it's a good time for you!

13 videos, total 1 hour 20 minutes, 1 lesson covering 12 topics.

Tasks at the end of the lesson activate what you have learned.

Lesson topic videos play automatically, from topic to topic the first time.

Pause, rewind or replay any topic videos you've watched.

Easy to stop and continue later (like Netflix).

Course resume button on your Dashboard.
Overall course progress and tasks you've completed.
You know exactly where you were and where to continue.

Review all Mind Control videos as many times as you like

for 6 months!
Cost:

How much is this course?
Take this Course